I'm a bit late with this, but here it is! Last month, I put up a poll for Josei anime reccomendations, and this one came in first. So, without further ado, here's my review of Princess Jellyfish!
PLOT
Kurashita Tsukimi loves jellyfish to the point of obsession, which is why she can't bear to see a jellyfish being mistreated in a local pet store. When the socially awkward Tsukimi fails to speak up for the jellyfish, a beautiful woman steps in, sparking the beginning of an extremely unlikely friendship.
Tsukimi and her nerdy friends (who are also her roommates) are swept off their feet by this newcomer in their lives. She's everything they're not: effortlessly stylish, incredibly confident, and a part of a social circle the girls only dream of joining. She might also not be quite what she seems to be…
With the help of her new friend, Tsukimi becomes confident enough to take on the world, protect her home from destruction, and attempt to achieve her life-long dream of becoming a designer. This little Kuragehime is on her way to becoming a queen.
No issues with the plot. I loved how it was mostly focused on developing Tsukimi as a person and helping her achieve her dreams.
CHARACTERS
I LOVED how the main character wasn't just some generic shoujo/josei heroine. Watching Tsukimi deal with everyday life reminded me of myself. A LOT. All off the members of the Sisterhood kept me laughing throughout the whole anime. Honestly, there wasn't a character that I didn't like.
Favorite Character:
Kuranosuke Koibuchi
Although I loved everyone, Kuranosuke captivated me at first sight. His different personalities and styles really made my day. And when he started having feelings for Tsukimi, his denial and jealousy was soooo cute! Overall, he's a really solid character. Plus, he looks fabulous in drag.
WRITING
AWESOME. I do wish that we got a better ending though.
GRAPHICS/ART STYLE
Ehhhhh. There were quite a few moments where the graphics looked kind of odd to me. Compared to the cover art, the actual animation was a huge dissapointment.
However, the facial expressions definitely deserve an A+.
MOE
I felt like Tsukimi was a cute little catterpillar who needed to be nurtured and guided so she could turn into a butterfly.
ORIGINALITY
Unlike most anime, the herione wasn't drop dead beautiful. Plus, the whole jellyfish this was definitely unique.
FANSERVICE
I don't remember seeing much fanservice.
OST
Loved the opening and the ending themes! I feel like both really captured the awkwardness and ridiculous humor of the anime.
BISHIES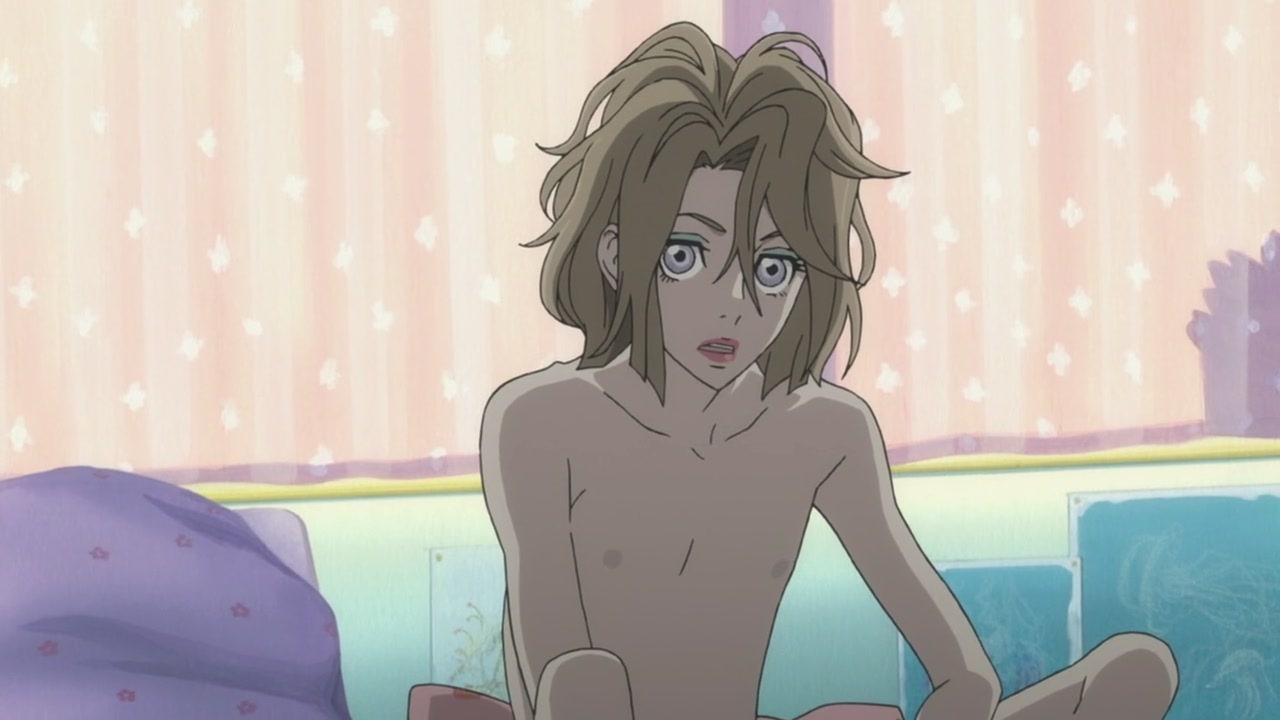 Kuranosuke was beautiful at all times.
HUMOR
OH MY GOSH. This anime had me rolling on the floor in laughter. The situations Tsukimi gets herself into are a certified recipe for laughter.
FEELS
I wanted Tsukimi and Kuranosuke to kiss SOOOO bad. As a result, seeing her with his brother pissed me off quite a bit.
UGH, AND THE CHEMISTRY BETWEEN TSUKIMI AND KURANOSUKE.
PURE BADASSERY
Kuranosuke's absolute diva-ness was totally badass.
FINAL THOUGHTS
I'm really glad that you guys reccommended this to me. Hand me the manga, because I need more!
This was a great anime to binge-watch and snort at. Honestly, I died of laughter while watching it. So if you're looking for a ridiculous slice-of-life show that will make you laugh, Princess Jellyfish is a must-watch.
If you liked January's Monthly Recommendation Review, check out the poll in my sidebar and vote on this month's anime!